My sister Desiree has called me Blasian since I can remember; Black Asian. I have always had a fondness for all types of Asian food.  I blame my best friend from high school, Donna. Donna and I met in high school after both of our families relocated to the suburbs. Both of us were city girls who appreciated the diversity of Los Angeles proper. We were in a literal culture shock being plopped into the least diverse community in Los Angeles; La Crescenta.  Thank goodness Donna was already driving AND had her own car.  I can bet 9 out of 10 weekends we were in the city enjoying its fruits; music, clubs, people and most importantly FOOD!
Oh, the restaurants and food we experienced together; spectacular. There was the sushi bar that had the belt of sushi that rode past and you just picked up what you liked. And the Vietnamese noodle restaurant that served the most amazing Vietnamese coffee.  Donna's mom would make the best Ramen noodles. I swear she added everything but the kitchen sink to them.  Her lessons helped me tremendously when I was in college and starving for a tasty meal on a budget. Who knew a pack of ramen noodles, fresh veggies, an egg and some left over protein could satisfy like it did.
And the best memory of food with Donna is the Chinese/Korean restaurant where we couldn't even order our own food. Donna's father would call ahead and order our food for us.  That little spot in Glendale, California is where I fell in love with Kalbi and Japchae.  Over the years I've made Kalbi at home on the grill. The butchers don't cut the short ribs as lean as they do in L.A.  So I just marinate a flank steak for a few days and it's as delicious as the short ribs without the hassle of the bone.  I have never until now attempted to tackle Japchae.  Lately I've been getting my fix at a Korean restaurant I have been frequenting every Friday for lunch.  They serve their Japchae in a stone bowl over a bed of rice. The rice gets crunchy and delicious on the bottom of the bowl.  What a treat!
So this weekend, I had a craving for Asian food (at home). There are a few recipes I've mastered, but I wanted to cook something I hadn't cooked for a while and something I've never cooked.  I also wanted to be sure I had a home run for my husband. His favorite Korean dish is Bulgogi. So I bought a flank steak, sliced it super thin and marinated it overnight.  Fried it up with some green onions and it was a perfect Hubby Home Run.
The recipe I haven't made in forever is a dish called Indochine Shrimp and Chicken. It's a recipe I discovered at the Grand Luxe in Las Vegas. I found a copy cat recipe on line and been making it about once year since.
Here's the recipe: Indochine Shrimp & Chicken
Originally done by Robert Ozurka
by
For Chicken & Shrimp
1/2 lb Chicken breast cut into bite size pieces (1 medium sized chicken breast)

3/4 lb large raw, deveined shrimp

4 tbsp oil

2 tbsp flour

1/4 cup onions thinly sliced

1 1/2 tbsp fresh grated ginger

1/4 cup chopped dried apricots (Optional)

1/4 cup chopped dried cherries (Optional)

1 bottle pre-made curry sauce or 1 cup homemade curry sauce

2 oz plum wine

1/2 tsp brown sugar

Black pepper & Salt
For Curry Sauce
1 can coconut milk

2 tbsp curry powder

Red pepper flakes

1 tbsp soy sauce
Instructions
For Curry Sauce
Heat coconut milk on medium heat.

Add curry powder, soy sauce, and red pepper flakes to taste

Let simmer until incorporated.

Set aside
For Shrimp & Chicken
Season chicken and shrimp as you wish

Add 1 tbs of flour to chicken and coat evenly.

In heated pan with oil (coconut oil is good here) add chicken and cook until halfway done

Set chicken to side

Add onions to pan and cook until opaque

Coat shrimp with remaining flour

Add shrimp to onions and cook until pink

Add to chicken on the side

Add wine to pan and let it boil

Add sauce to pan (either homemade or pre-made)

Add fresh ginger, apricots, and cherries

Let sauce thicken

Add meats (shrimp & chicken)

Stir and heat through.

Service with white rice
As it does every year, it turned out delicious.  But the pièce de ré·sis·tance was the Japchae. I was at my Kroger Marketplace on the Asian food aisle and saw the sweet potato glass noodles were new to the set. I put them in the cart and immediately Googled Japchae recipes.  Since I already planned for Bulgogi as the beef dish, I substituted chicken in the recipe below. I also subbed red bell pepper for spinach and fresh shiitake for dried.  
Japchae Serves 4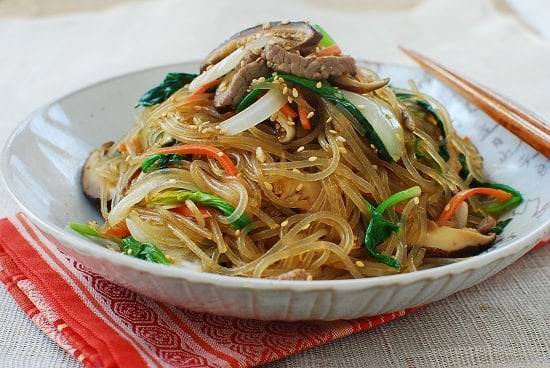 Ingredients
6 ounces (170 grams) Korean potato starch noodles (dangmyeon, 당면)

1 small carrot

1 small sweet onion

2 scallions

4 ounces (110 grams) lean beef (sirloin or rib eye)

4 – 5 dried shiitake mushrooms, soaked until plump – see note

6 ounces (170 grams) fresh spinach

vegetable oil for stir frying

salt and pepper
Sauce
3 tablespoons soy sauce

2 1/2 tablespoons sugar

2 tablespoons sesame oil

2 teaspoons minced garlic

2 teaspoons roasted sesame seeds

Egg garnish (jidan) – optional
Instructions
1  Combine all sauce ingredients in a small bowl and mix well until the sugar is dissolved.
2  Cut the carrot into match sticks. Thinly slice the onion. Cut the scallions into similar lengths.
3  Cut the beef into thin 2-inch long strips and mix with 1 tablespoon of the sauce. Cut the stems off the mushrooms, and slice into 1/4-inch thin strips. Season with 1 tablespoon of the sauce.
4  Blanch the spinach in boiling water only until wilted. Drain quickly and shock in cold water. Squeeze out excess water, cut into about 2-inch lengths, and lightly season with salt and pepper. 
5  Bring a pot of water to a boil, and cook the noodles according to the package directions (usually 6 – 7 minutes). Rinse in cold water and drain. Cut the noodles with kitchen shears or a knife into 6 -7 inch lengths. Mix in 2 tablespoons of the prepared sauce in a large bowl.
6  In a large non-stick skillet, stir fry the noodles over medium heat, stirring frequently, until translucent and a bit sticky (about 4 minutes). Transfer back to the bowl.
7  Add 1/2 tablespoon of oil to the pan, and stir fry the onion until translucent over medium high heat, lightly sprinkling with salt and pepper. When the onion is almost done, stir-in the scallion and cook briefly. Transfer to the bowl with the noodles. Stir fry the carrot for 1 to 2 minutes until softened. (Do not overcook. The vegetables should be crisp.) Transfer to the bowl.
8  Stir fry the beef and mushrooms together until the meat is cooked through, 2 – 3 minutes. Transfer to the bowl.
9  Add the spinach and the remaining sauce to the bowl with all other prepared ingredients. 
10  Toss well by hand. Adjust the seasoning to taste by adding a little more (start with 1/2 teaspoon) soy sauce and/or sugar as necessary.
 korean bapsang https://www.koreanbapsang.com/
A few weekends ago on Mother's Day, Asian Food Fest was downtown Cincinnati. I was in hog heaven and for the first time I ate Cambodian food.  The bottom line, my sister was right, I am Blasian; and proud of it.  
So many flavors and so little time.  Tell me what is your favorite.